Digital payment system optimizes invoicing, payment collections, and reimbursements.
Relay Payments, an electronic payment network provider for the transportation, logistics, and supply chain industries, today announced that Southeastern Freight Lines has realized 61% in monthly savings directly tied to optimized payment processing. By partnering with Relay Payments, the Less Than Truckload (LTL) carrier has improved internal protocols and eliminated the manual steps of issuing checks for accessorial fees across its 3,000-truck fleet.
Southeastern Freight Lines implemented Relay to meet operational requirements in response to customer demand. The biggest gain for the carrier is the improved ability to document and collect payables for accessorial fees. With the payment process centralized, all back-end actions related to proof of service and reconciliation are performed at Southeastern's corporate headquarters in Columbia, SC.
"Since implementing Relay, we have improved our ability to invoice, collect payments, and track reimbursements on accessorial fees," said Justin Self, Manager of Sales Support & Development for Southeastern.
"Relay is a game-changer. Now every time a payment is issued through Relay, our centralized team has a simple yet efficient reconciliation process. This tailored process meets both our needs and that of our customers."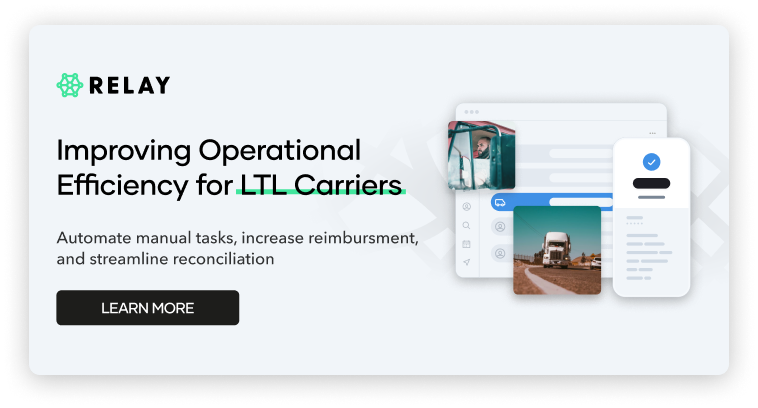 After just one week in pilot, Southeastern rolled out Relay's payment solution across its 90-Service Center network. Relay Payments, an instant, electronic, end-to-end payment solution for carriers including four of the top 10 LTLs, shippers, and brokers, saves time processing payments, eliminates middle-of-the-night phone calls, reduces costs, and improves operational efficiency.
"Southeastern's motto is Quality without Question, and that's exactly what we wanted to deliver for them," said Spencer Barkoff, co-founder and president of Relay Payments.
"In a time when maximizing Hours of Service is so important, it has been great working with Southeastern to increase margins by investing in improved processes. Ultimately, we made it easier for their drivers to make over-the-road payments, getting them back on the road more quickly."
Learn more about Relay for LTL Carriers here.
About Southeastern Freight Lines
Southeastern Freight Lines, a privately-owned regional less-than-truckload transportation services provider founded in 1950, specializes in next-day service in the Southeast and Southwest and operates 89 Service Centers in 13 states, Canada, and Puerto Rico. Southeastern has a network of service partners to ensure transportation services in the remaining 36 states, the U.S. Virgin Islands and Mexico. Southeastern Freight Lines provides more than 99.35% on-time service in next-day lanes. Southeastern has a dedication to service and a healthy quality improvement process that began in 1985 and in their 71-year history, has received more than 500 quality awards from numerous customers and associations. For more information, please visit www.sefl.com and www.facebook.com/SoutheasternFreight.
About Relay Payments
Founded in 2019, Relay Payments is an Atlanta-based, venture-backed fintech company building an electronic payment network in the transportation, logistics, and supply chain industries. Trusted to process more than 250,000 transactions every month, Relay is spearheading the modernization of payments in an industry historically reliant on cash and checks to conduct business. Relay has joined forces with industry giants like Coyote Logistics, Great Lakes Transport, Old Dominion Freight Lines, and Southeastern Freight Lines to streamline their payment process and optimize operations so products get to shelves for consumer consumption quickly.
Visit www.relaypayments.com to learn more.