Carriers
Make instant and secure
digital payments
Make instant over-the-road payments, automate back-office processes, and get flexible and fast freight payments from brokers in Relay's network.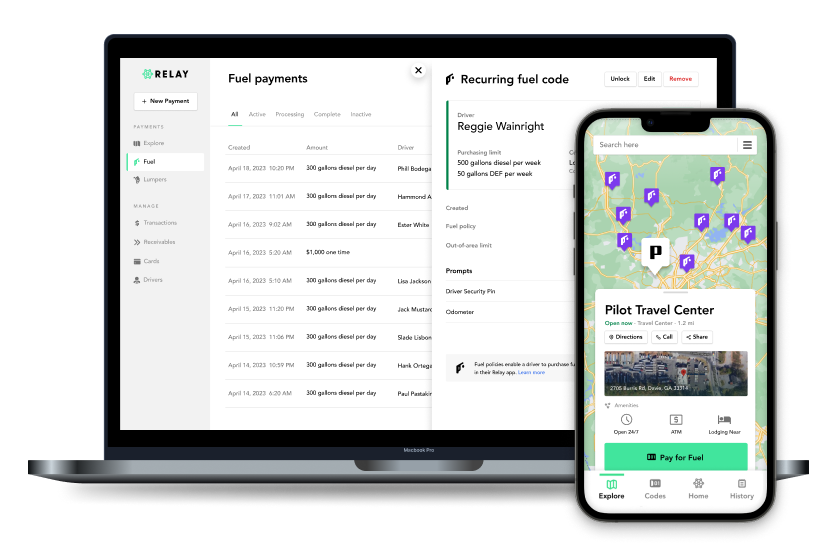 Solutions engineered for carriers
Digital Payments
Send, track and receive payments fast with the digital platform powering today's most efficient fleets.
Fuel
Take advantage of Relay's secure payment technology that expedites fuel payments and reduces fraud.
Parking
Locate, reserve and pay for parking through Relay's network of parking lots and truck stops.
Lumpers
Expedite safe and secure lumper payments to avoid costly delays, late-night phone calls and lost receipts.
Trusted By







Trust Relay to keep you moving
Relay is used by
90,000+
fleets
Powering a network of
350,000+
drivers
Accepted at
2000+
merchants
Fuel Savings Calculator
Save money using Relay for your fuel payments.
Whether using your negotiated merchant discounts or signing up for the Relay Clutch Program, you'll save money by eliminating fuel fraud through Relay's digital payments.
Larger Carrier
Fight fuel fraud by using Relay with your existing negotiated discounts
Owner Operator
See how much the Relay Clutch Program can save you each month
2,700
Monthly Savings from Fraud Reduction
Payments Built for Carriers
Run an efficient fleet with digital payments
Eliminate cards, cash and checks from your OTR payments. Relay provides a modern and secure payment network that gives drivers instant payments, automatic receipts, cost controls, fraud protection and an unrivaled network of merchants.
Centralize Payments
Relay provides fleets with a better way to pay and manage freight and OTR payments.
Instant diesel payments for your fleet
Fuel is your number one cost but doesn't have to be your number one headache! Use Relay to:
Make secure fuel payments at the pump or in-store at 1500+ travel centers

Reduce fraud with strict controls, monitoring, and innovative geofencing technology

Add your existing merchant negotiated prices into your Relay account to continue to save on fuel

Don't have a negotiated merchant discount? Sign up for the Relay Clutch Program to take advantage of Relay's negotiated fuel prices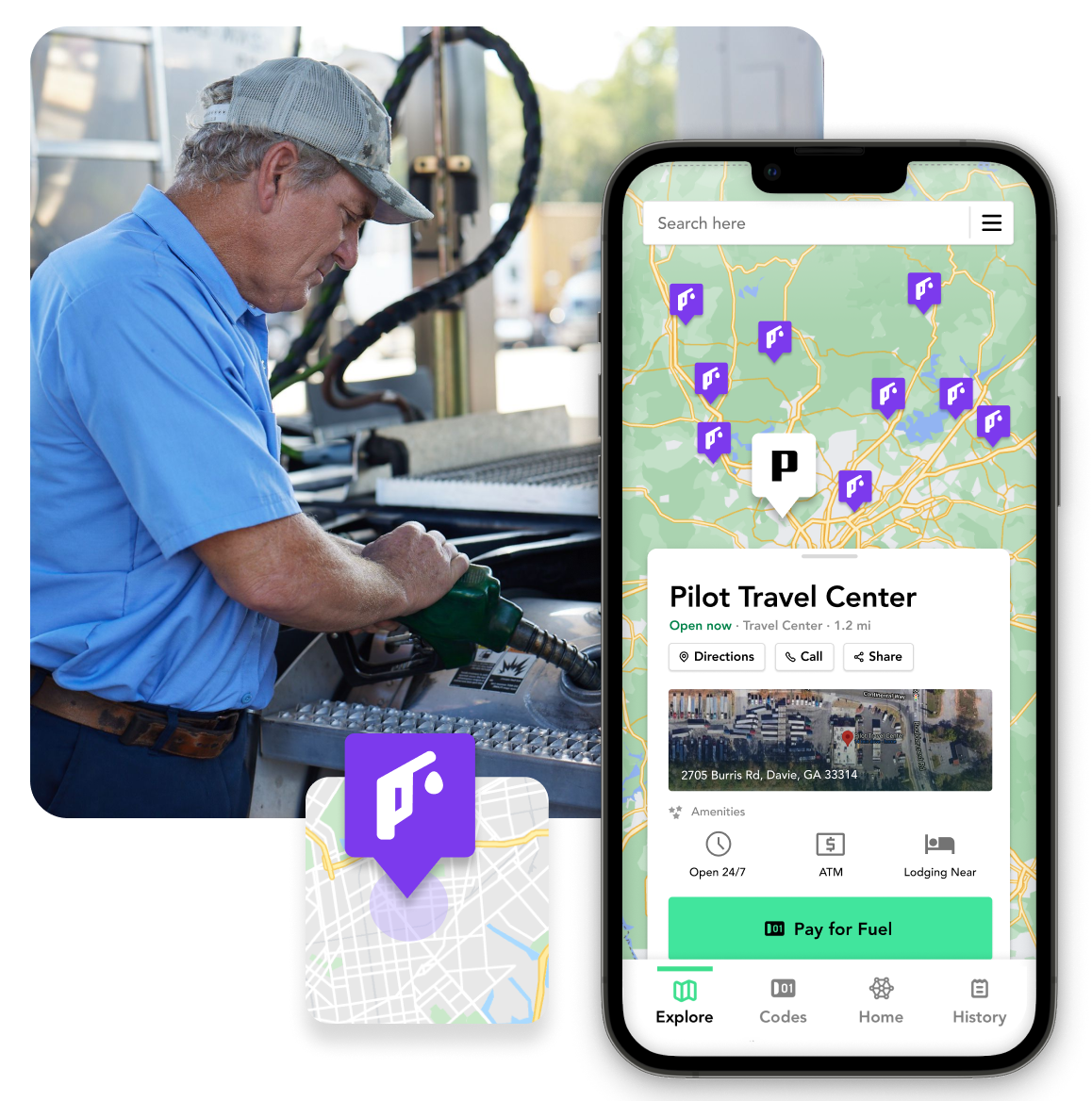 Instant payments and receipts
Relay is accepted at 90%+ of warehouses across the country to ensure your drivers are maximizing their hours of service by avoiding delays at the dock. Relay's simple, automated process enables you to:
Issue payments in advance to your drivers

Add security measures by selecting approved locations for payment

Receive instant receipts to ensure reimbursement, every time

Split receipts and payments for LTL deliveries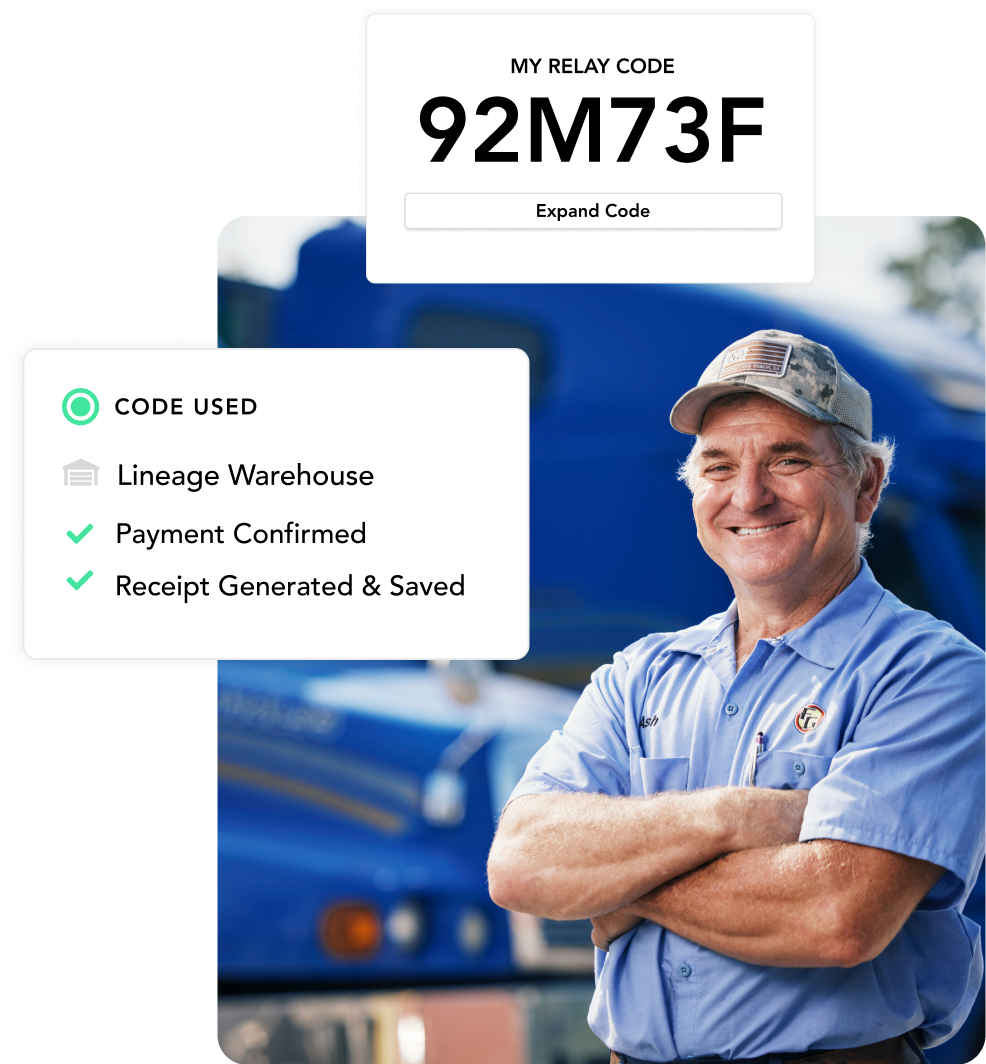 Find and secure parking
Tap into Relay's growing network of merchants and take the stress out of parking. Use Relay to:
Find available parking spaces for your drivers along the lanes they run
Book and make secure payments for parking
Allow your drivers to book and pay for parking on their own using the Relay app
Reduce the time spent in search of available parking.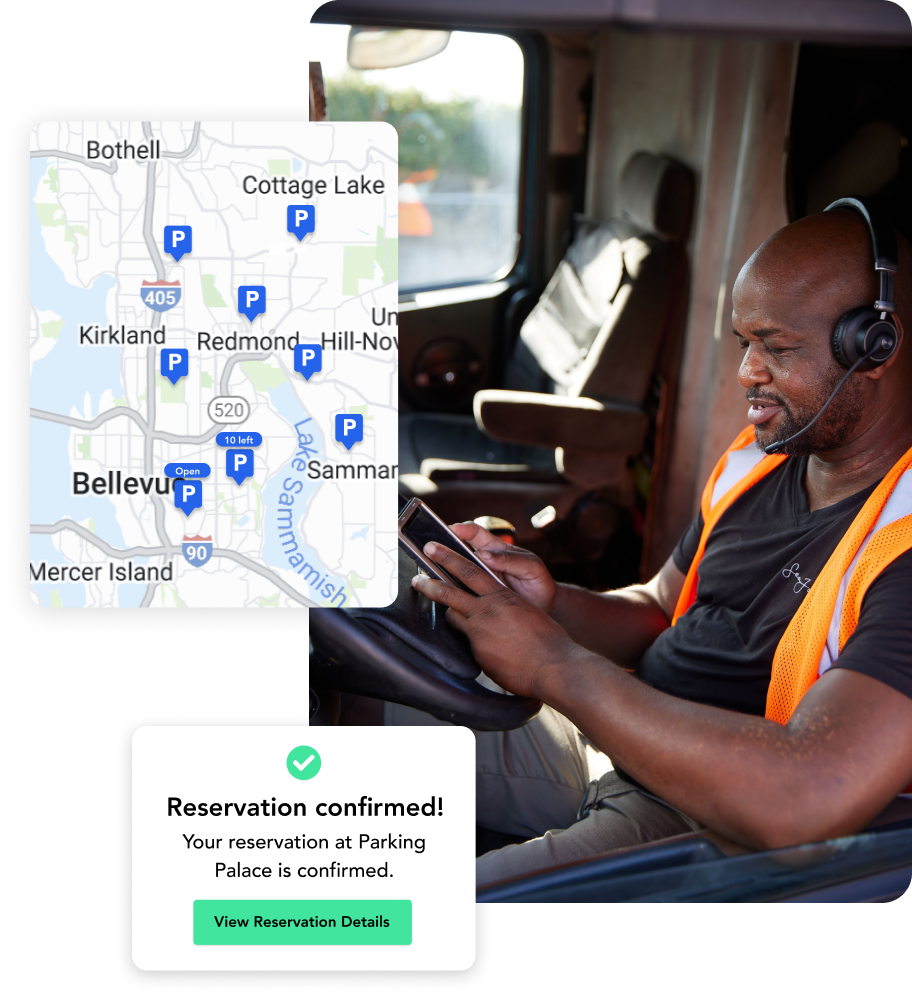 To keep you moving
Relay's carrier solutions empower you to make fast and seamless payments across your network so you can operate as efficiently as possible. Relay provides:
Fast, digital OTR payments for your drivers
Automated tracking and reporting for your back-office
Secure payments technology to reduce fraud
Advanced security measures and cost controls
Fast and flexible ways to get paid by brokers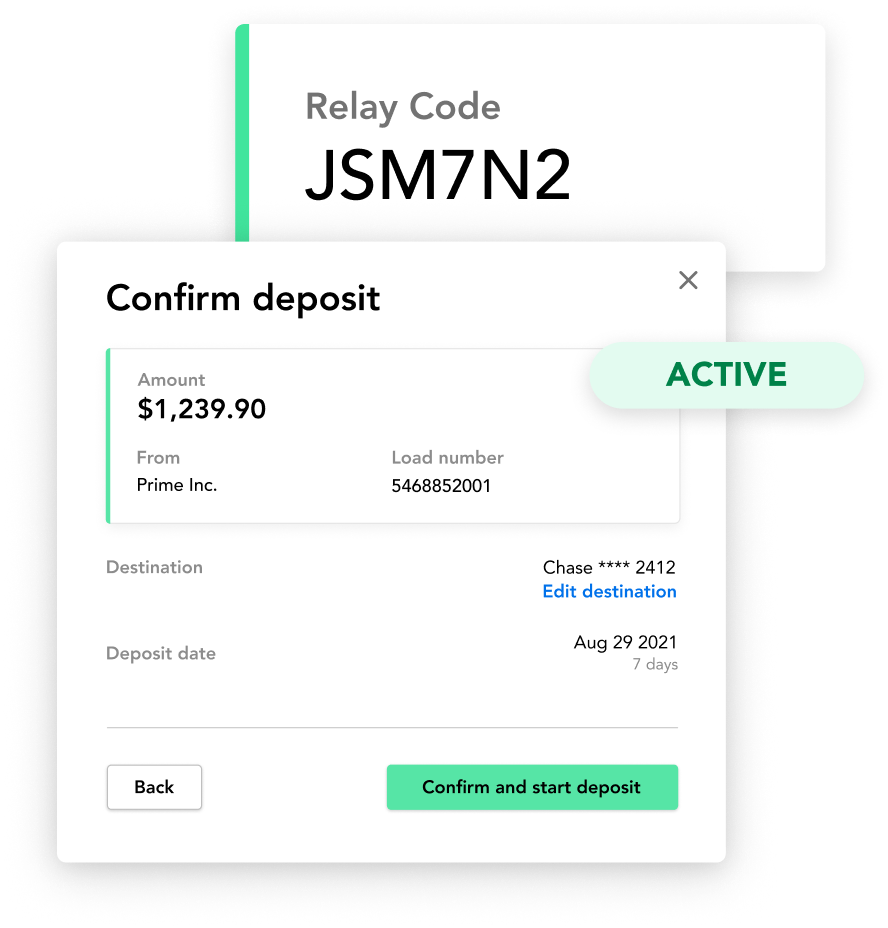 Why Carriers Choose Relay
Ditch fleet checks, lost receipts and dock delays
Choose a cash-free digital solution that gets lumpers paid and drivers back on route quickly.
Avoid late-night phone calls
Receive 24/7/365 on-the-road assistance with knowledgeable, U.S.- based customer support.
Fee transparency and trustworthy payment solution
Always know what you're paying for and how much you're paying.
Seamless transactions across the industry
Pay and be paid in an instant with the benefit of a real time digital trail.
Lumpers Savings Calculator
How much could you save by using Relay for your lumper payments?
How many lumper fees
do you pay each week?
What is your average
lumper fee cost?
8,251
Annual savings using Relay
There's peace of mind for us, knowing there's not a fuel card that's going to be skimmed. They're not going to lose their card. They're not going to misplace their card. They always have the app on their phone and we can see everything that they're doing in real time. If we log into Relay's online account, the nice thing is we're still getting our bill direct from Pilot Flying J just like we did before. And the drivers are still getting all of their fuel points that they're earning."
Amanda Corlew, TransWay, Inc
Not only has Relay delivered a great product, but they have also been available and continue to be responsive to our needs and questions. We have had a great experience with Relay... and appreciate their best-in-class customer service.
Stephanie Wolford, J.B. Hunt
We have entrusted Relay to process millions of dollars in volume annually and we've already been able to realize millions in savings through data integration, digitalization of receipts, and simplified reimbursements.
Todd Polen, Old Dominion Freight Lines
Frequently Asked Questions
Yes. Carriers can tap into Relay's discounted diesel network or use their existing merchant-negotiated discounts at Pilot, Flying J and One9 locations. We continue to expand our network to include more merchant locations, so check our app frequently for updates.
Relay adheres to the most stringent security measures in the industry and conducts around-the-clock safety audits for transactions. We safeguard every payment with cardless, single-use codes at checkout and use the same payment platform powering today's biggest businesses like Amazon, Spotify, and more. For information on fraud and how Relay helps protect your business, head here.
Absolutely. Relay helps drivers find both short- and long-term parking.
Short term:
Your driver can locate and reserve overnight parking with Relay's GPS-enabled, mobile app. Drivers can book a parking spot with 3 simple steps:
Find a location that works best for when a driver needs to stop for the night
Complete a form indicating time of arrival and departure to secure a spot
Receive a reservation confirmation with details on how to access the property
Long term:
Relay is dedicated to helping carriers and brokers source long-term parking that meets their needs. Our team has developed strong relationships with parking lot operators all over the country, which uniquely enables us to secure parking for our customers.
Our team is ready to get your fleet set up in no time, with average implementation times ranging from 24 hours to just a few days.
For larger fleets with TMS integrations, implementation can take a little longer depending on your team's resources. On average we see our larger-scale integrations deployed within 2–3 weeks.
Drivers can be set up instantly and do not need to worry about card activations or arrival. Simply list each driver as an authorized user and connect them to policies within the Relay admin portal. This will allow them to use Relay's digital payment codes immediately, while adhering to your configured policies and Relay's security measures.
Get Started
Complete the form below to learn more about our solutions for carriers.