At Relay, we strive to build lasting connections and partnerships with our customers – and we like to showcase that in our Customer Spotlight series. Next up is Angie's Transportation.
Angie Twardawa and her brother Rafael started their transportation company nine years ago after growing up in and around the trucking industry working for their truck driver father. Their story highlights how hard work and persistence pays off in the long run. When at a crossroads in their lives, they started Angie's Transportation with just one truck and grew the business to 65 trucks today, with plans to build their own truck terminal on land they recently purchased in St. Louis.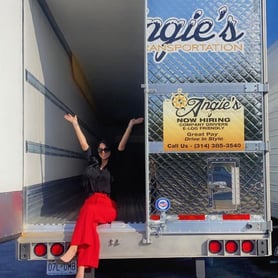 How do you see the values of Angie's Transportation and Relay align?
We all stay up to date on current trends - like Relay - and are continuously learning and improving to keep up with this fast-paced, ever-changing industry.
What were some of the challenges associated with the lumper fee payment process before using Relay?
Paying for lumpers was complicated and a burden on everyone involved, from the actual lumper to the driver to dispatch to billing to the customer. Also, we experienced an office fire in one of the worst fires in St. Louis history 2017. We had to redo our whole company from scratch. All documentation was gone because our software was not yet migrated to the cloud, and it took us about one and a half years to get back on track. With Relay, we don't have to worry about losing a paper trail like that - everything is digital!
What are the apparent benefits of using Relay?
Relay simplifies the lumper process from operations to billing and eliminates the hassle of late-night phone calls made to dispatch. We no longer worry about missing receipts and incorrect payment amounts. With Relay, the guesswork is taken out of the equation. We know now who paid a lumper and for how much.
Were there any surprising takeaways from using Relay?
Relay has added an extra level of security and peace of mind to our company and staff. It makes everything much more efficient, guarantees reimbursement, and makes for an easy, transparent transaction. Overall it has made our drivers happier, and if they're happy, we are too.
Any favorites of the Relay payment solution?
We can better prepare for a driver to make a delivery with digital payments, even if we don't know how much the lumper fee will be. Relay is a lifesaver! Especially in this day and age with Covid, we need to continue investing in technology to simplify some processes and make them contactless.
We are huge fans of Relay, and we tell everyone about it. Everyone needs to hop on board with Relay.
Thank you, Angie's Transportation, for chatting with us! Stay safe and keep on trucking!
Would you like to simplify your payment process and keep your drivers moving and happy, just like Angie's Transportation? Give us a call or schedule a demo, and let's get you started.