Ron's Homestyle Foods, a family-owned food manufacturer based in Houston, Texas, has been delivering commercially prepared home-style deli salads to retail and food service customers across the US for more than 35 years, while operating its own small fleet of four trucks to assist in distribution.
"Drivers don't call me to pay for repairs or lumpers over the phone anymore."

Sean Kyle, Staff Accountant
The Problem
Staff accountant Sean Kyle explained each time Ron's Homestyle Foods encountered lumper fees at distribution centers drivers were forced to pay with cash, which had been given to them in advance of the delivery.

This caused an array of issues for drivers including unloading delays, back-and-forth phone calls to Ron's headquarters to sort out payment problems, and the loss of paper receipts.

Cash also posed security issues around misuse for other over-the-road expenses as it was difficult to track, requiring receipts, which put the onus on the driver.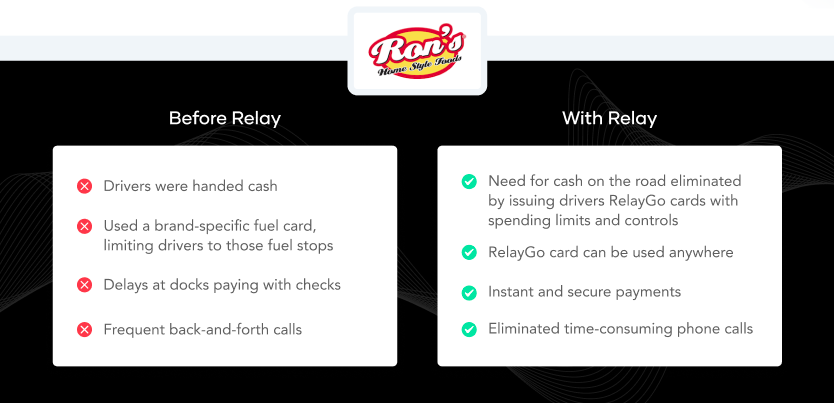 The Solution
Implementing Relay's instant, digital suite of solutions, Ron's Homestyle Foods has eliminated its reliance on cash. Drivers are now equipped to make any payments over-the-road with their personal RelayGo card.

With controlled spending limits, easy top-up features to handle unexpected expenses, custom reporting, and digital receipts, drivers can now make faster and easier payments while the Ron's accounting team has peace of mind knowing each transaction can be tracked and accounted for.
The Results
Ron's Homestyle Foods has experienced a notable decrease in the amount of wait time paying lumpers and reported efficiency gains since eliminating the need for the driver to manage receipts during transit.

"Overall, using Relay has been very helpful," Kyle said.

Eliminating cash and moving to a digital system to move money between multiple parties has given Ron's better visibility on expenses with improved tracking and reporting, and removed a lot of the burden from their drivers.