Owner Operators
Be a boss from the cab of your truck
Manage all your over-the-road payments in one mobile app. Make instant and secure fuel payments, book parking and pay lumpers with Relay's digital solutions.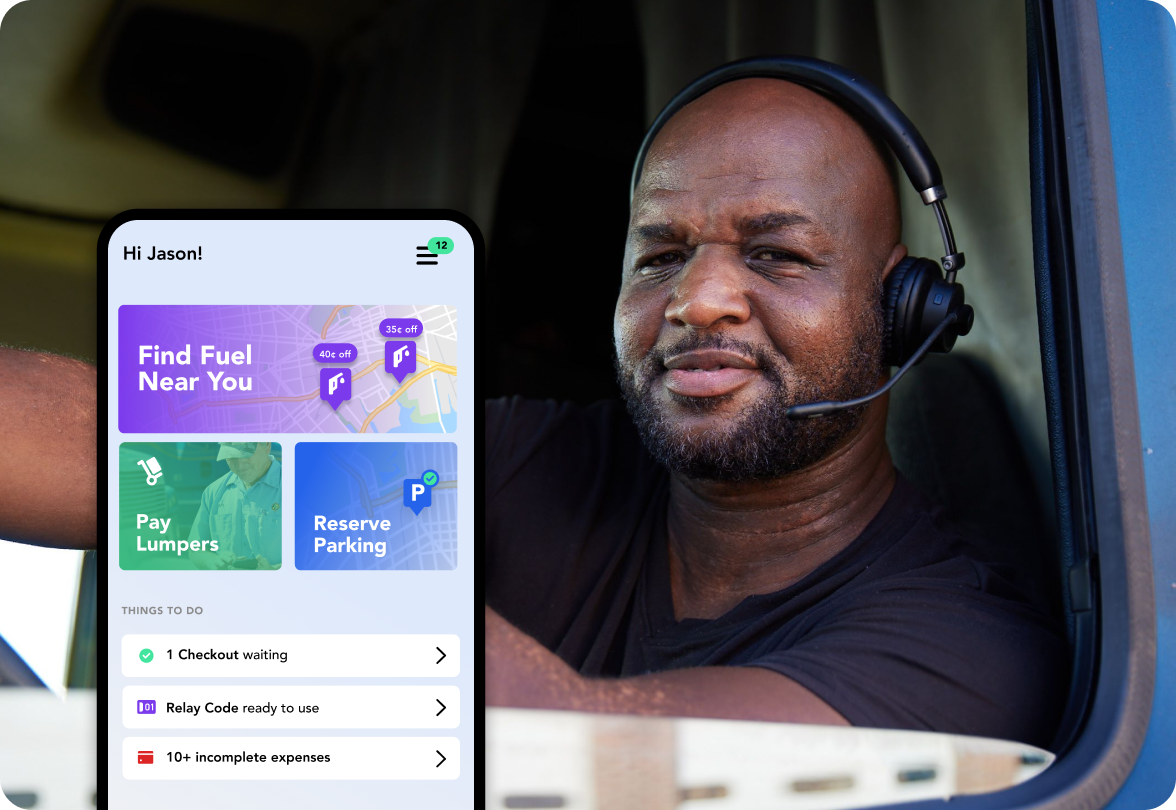 Solutions made for owner operators:
Secure Fuel Payments
Avoid fuel fraud, find the best diesel prices along your route, and make instant digital payments.
Reliable Truck Parking
Easily find, book, pay and access truck parking when and where you need it using our mobile app.
Instant Lumper Payments
Instant lumper payments and automated receipts get you off the dock quickly and back on the road.
Digital OTR Payments
Manage your payments and expenses in the award-winning Relay app that enables you to do business while on the move.
Trusted By






Trust Relay to keep you moving
Relay is accepted at
2000+
merchants
We work with
90,000+
fleets
Relay is used by
350,000+
truck drivers
Fuel Savings Calculator
Save money using Relay for your fuel payments
Whether using your negotiated merchant discounts or signing up for the Relay Clutch Program, you'll save money by eliminating fuel fraud through Relay's digital payments.
Larger Carrier
Fight fuel fraud by using Relay with your existing negotiated discounts
Owner Operator
See how much the Relay Clutch Program can save you each month
2,700
Monthly Savings from Fraud Reduction
Time is money
Operate efficiently to drive more revenue
Ever wish you could combine all your over-the-road payments in one, easy-to-access and easy-to-manage system? Now you can — from the palm of your hand.
Revenue is earned when your wheels are rolling
Don't let payments slow you down
Find the best price on route
Refuel along your route knowing you can still access the day's best diesel discounts. Relay's GPS enabled fuel feature allows you to:
Make secure fuel payments at the pump or in-store at 1100+ travel centers
Reduce fraud with strict controls, monitoring, and innovative geofencing technology
Access daily fuel discounts along your route through the Relay Clutch Program
Add your existing merchant negotiated prices into your Relay account to continue to save on fuel
Track and report on all your fuel expenses in real time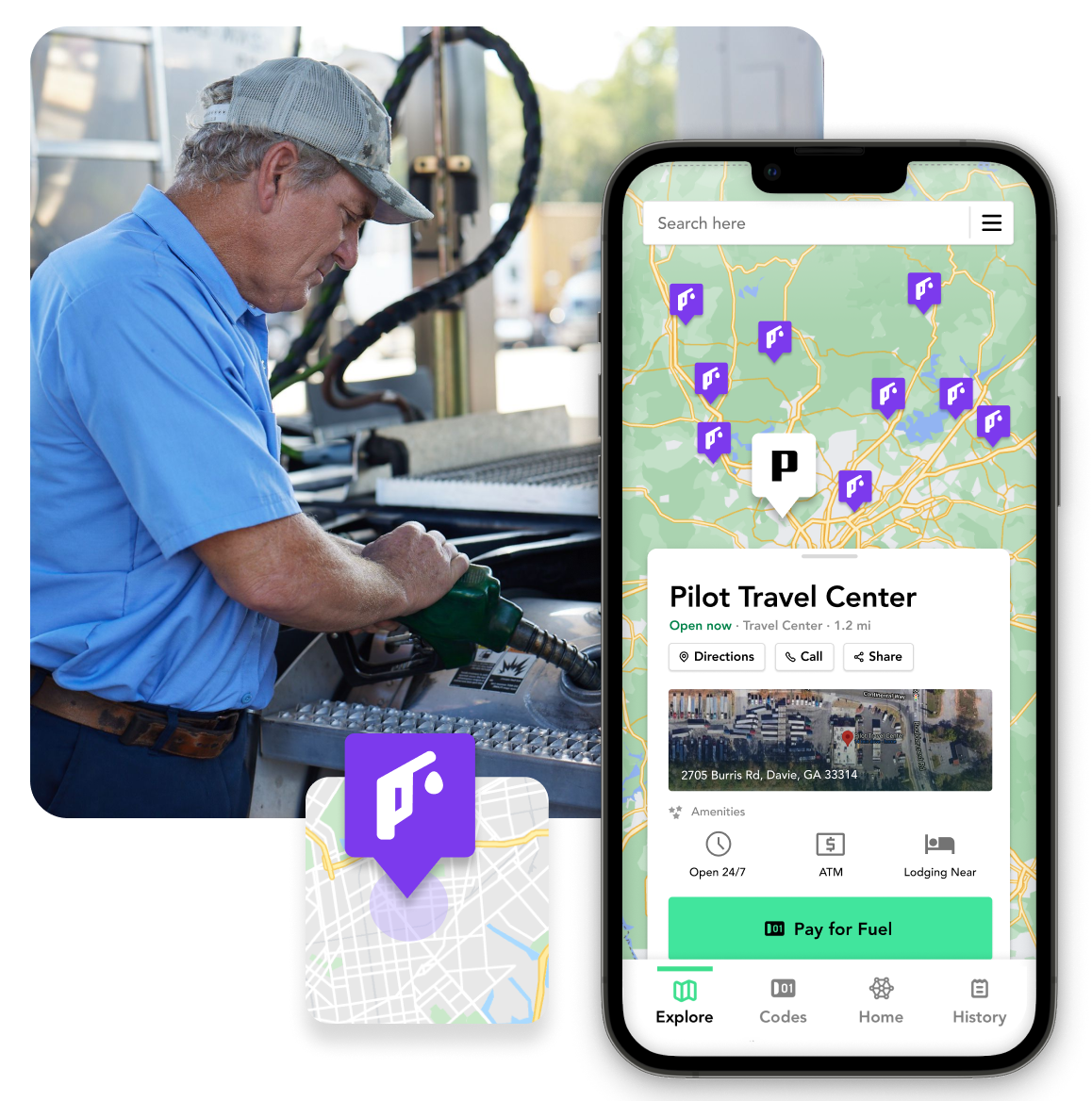 Get reimbursed every time
Reduce detention time when paying lumpers and maximize your hours of service. Use RelayPay on your phone to:
Ditch paper-based payments such as cash and checks
Pay lumper fees quickly - no need to verify long money codes
Receive an instant, digital receipt for easy reimbursement
Eliminate late-night phone calls to your broker or carrier
Track and report on lumper expenses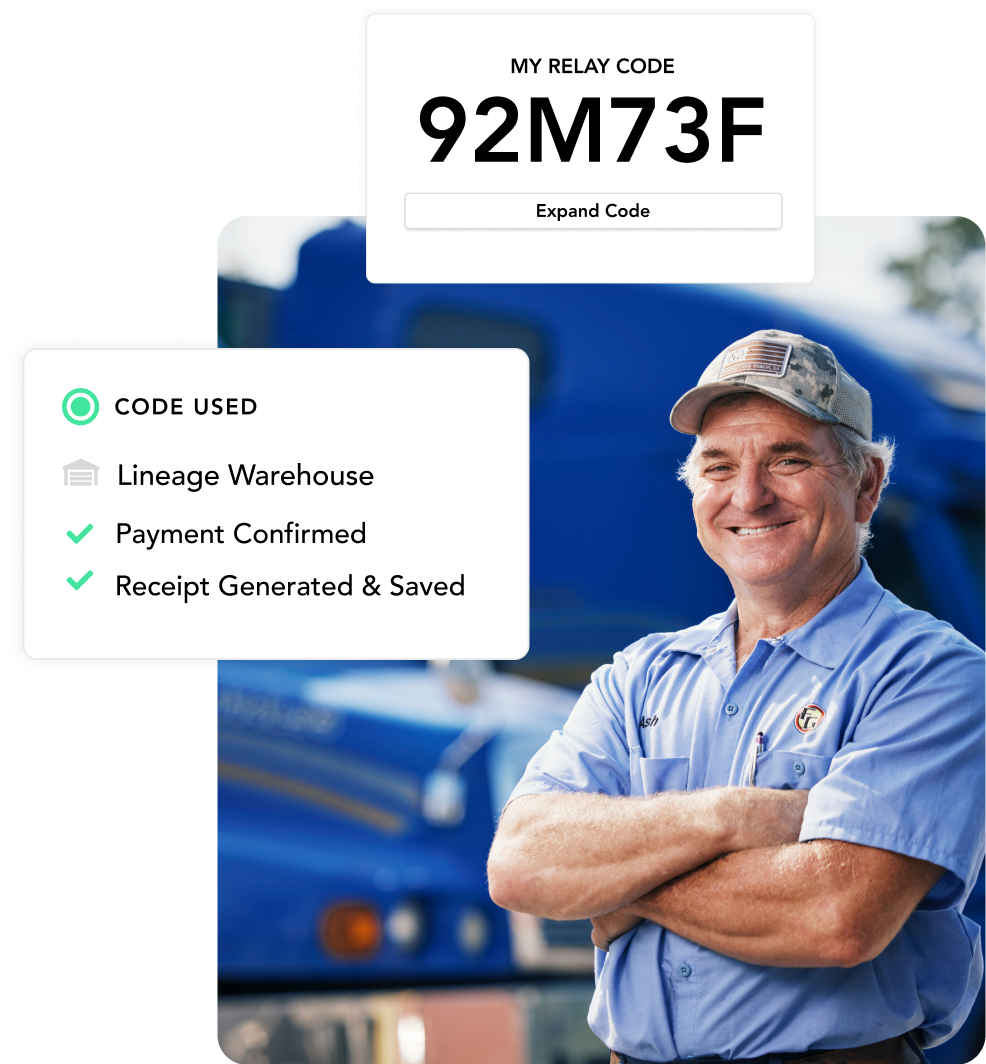 Find and secure parking
Take the guesswork and stress out of overnight parking by using the Relay app to:
Find available parking spaces
Secure and pay for overnight and monthly parking in advance
Access up-to-date parking data so you don't waste time driving around in search of an available spot
Manage your digital receipts
Track and record your expenses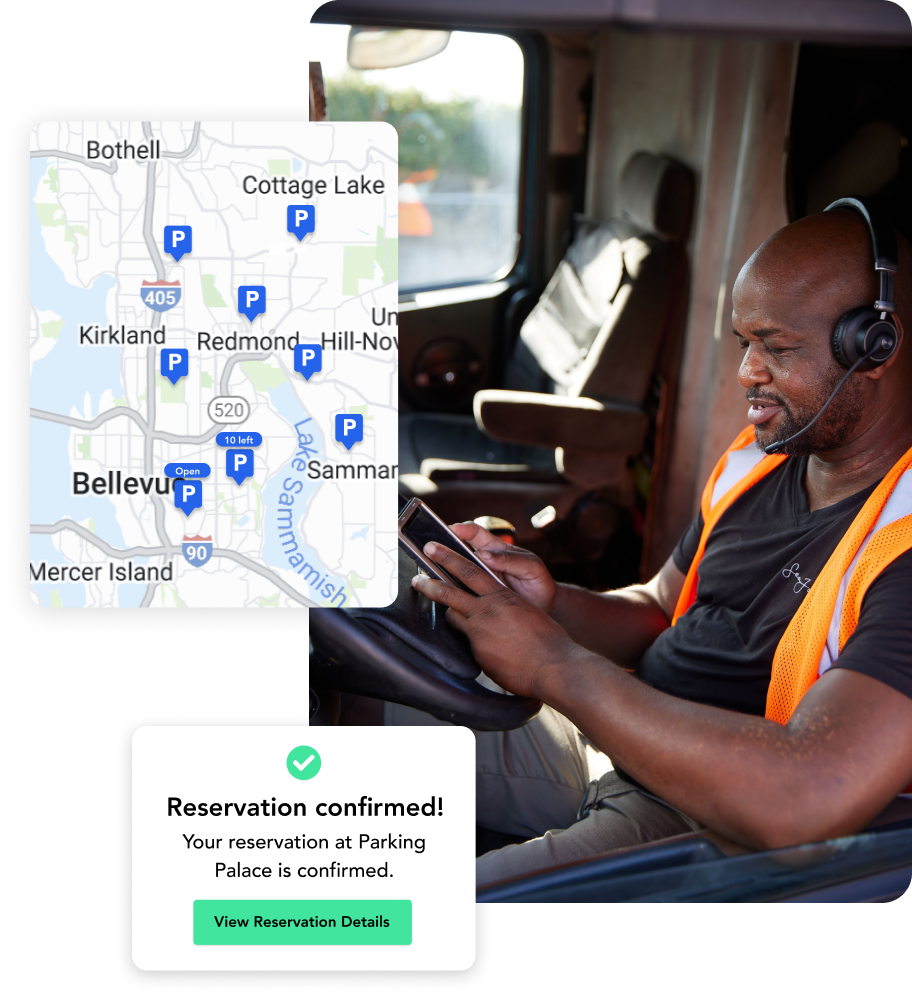 Take care of business on the go
You'll never be left stranded on the road thanks to Relay's secure payment network which allows you to:
Make fast, secure OTR payments
Manage your business from your phone
Receive instant, digital receipts that can easily be shared with other parties
Track payments and view past transactions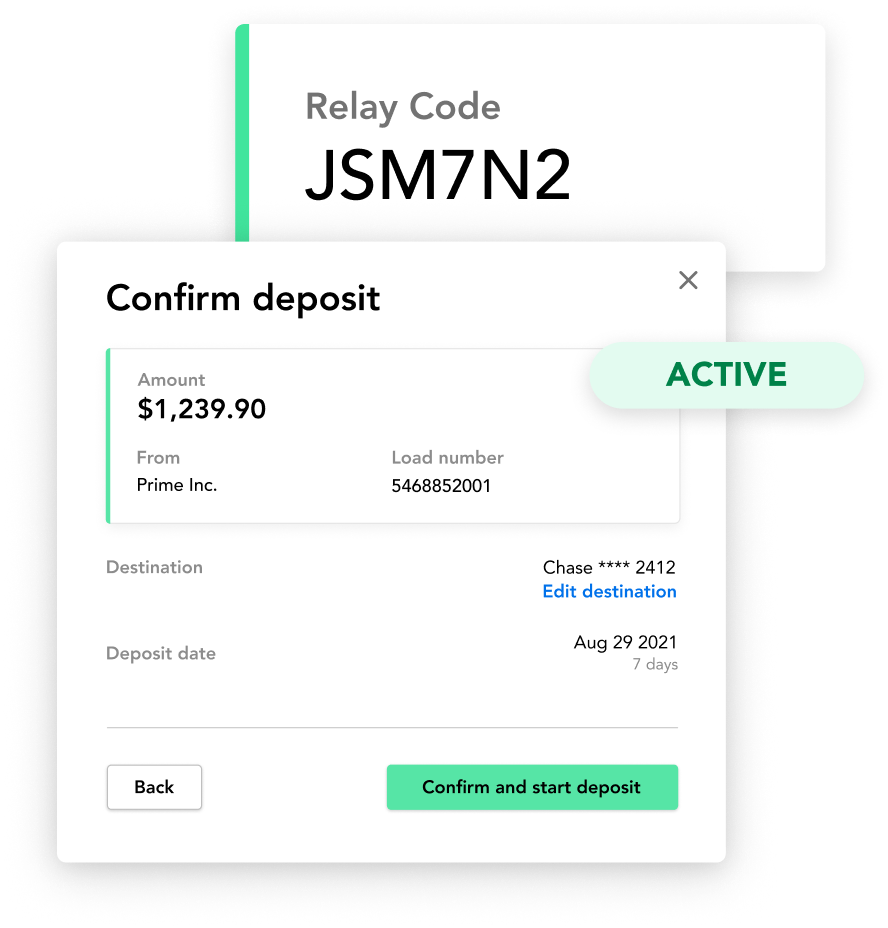 Leverage the Relay Network to get the best deals
Payment choices to match your OTR needs
Relay provides payment flexibility to keep you moving. Get rewarded with faster payments and bigger discounts when making a purchase at merchants within the Relay network. Just use RelayPay — a secure digital code generated for you within the mobile app.
Lumpers Savings Calculator
How much could you save by using Relay for your lumper payments?
How many lumper fees
do you pay each week?
What is your average
lumper fee cost?
8,251
Annual savings using Relay
Why Owner Operators Choose Relay
Business on the move
Mobile-friendly tech means you can easily do business wherever you are.
Reduced dock delays
A cash-free solution that gets lumpers paid and you onto your next delivery.
Guaranteed reimbursements
Digital receipts saved to your phone to ensure you never miss a payment.
Around the clock support
24/7/365 friendly and helpful U.S.-based customer support.
Love that you have added fuel discounts. Big win for trucking to use your app for more things to save time and money.
Cas trucking, Google Play Store
Much faster. I don't have to write out a check or get out of my truck. Nice idea.
Lonne Searle, Google Play Store
It makes payments go faster. Quick and easy to use. It keeps a history of all your payments. You don't have to wait as long. Hurry up and download it already. We all know you're tired of waiting, I know I was.
Bigg Redd Dawgg, Apple App Store
Frequently Asked Questions
No, the Relay app is completely free for owner operators to use and does not charge any fees.
Download the Relay app on your phone, and select the Explore tab at the bottom of your screen.
Our GPS-enabled map will show you diesel prices and savings by location, or simply enter your route to find on-route diesel discounts along the way.
We keep it simple with just 3 easy steps:
Visit the Apple App Store or Google Play Store and download the app,
Register in the app and set up your payment method for seamless & secure transactions,
Pay lumpers on the spot, find and pay for fuel, and find parking, all in one app.
Simply open the explore tab in the Relay app and the map will show you truck stops and other locations with parking in your current area. Find parking near you now.
Download the Relay app and add your payment method
Using the Relay map in the Explore tab, find and select your fuel location
Click Pay for Fuel and verify your identity and location details to generate your secure fuel code
Present your code to the cashier, or pay at the pump at participating locations.
A receipt will be stored for you automatically and can be found in the History tab in the Relay app
From the home tab in the app, select Pay Lumpers.
Next, generate a secure payment code
Present the code at the warehouse for processing
A receipt will be created automatically and can be found in the History tab in the Relay app
No. Relay does not require a background or credit check to use our app, although we do require verification of funding methods as a way to mitigate fraud. Simply add a method of payment to your profile and you're good to go!
Relay currently has more than 1,000 truck stops across the continental US. We partner with large truck stop chains and independent locations on fuel discounts and parking.